From the School Principal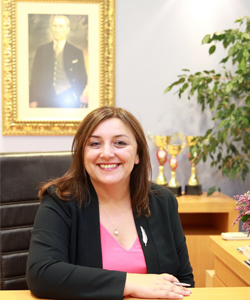 Dear Parents and Students,
With the excitement of starting a new academic year I welcome you with love and respect.
Işık Schools, synonymous with high quality teaching and providing superior learning opportunities has accomplished much success in many areas. In the new academic year, we will continue to provide an inspiring education for all students where they can flourish, be innovative and aspire to futures that harness their many skills and abilities.
In a world where much is said and discussed about education, as a teacher and a member of the Işık family I would like to draw your attention to the words of Albert Einstein who said, 'Human beings cannot reach anything unless they push the limits of the mind'. As a teacher and a parent, I believe that education does not occur without forcing the limits of reason. Without the intellectuals who set out to realize their dream about education in Thessaloniki in 1885, the foundations of this 136-year-old institution would not have been laid. Without the vision and faith of our school founders there would be no Işık Schools bringing many innovations to the Turkish education system. We are committed to providing learning experiences that enable our students' dreams to be shaped by the skills of the 21st century and to positively impact on the lives of future generations.
For 136 years we have always encouraged students to be active participants in their own education rather than be passive recipients. We educate individuals to have the ability to research, to question and have a critical eye, to transfer new knowledge learned to different situations and to travel the world through literature. We know the necessity for our students to be technology literate and most importantly to contribute to the production of knowledge. Işık Schools provides a unique educational experience through our challenging personalized curriculum that prepares our students to be leaders and active participants in the 21st century.
Our priority is to protect our traditions as we are aware that through a school culture based on a solid set of values and principles the Işık light will be passed from one generation to the next. We have always adhered to the goal of educating students who value and are aware of our traditions and are also culturally adaptable to varying situations. We give importance to intercultural projects and international studies. I can say with great pride that we always strive to better ourselves through professional development programmes in order to carry out these studies. We know that education doesn't end in the classroom. If we want our students to think analytically, we as leaders must first have analytical thinking skills. If we want our students to be individuals who can employ scientific research methods, we are aware of the necessity that we as their guides must know the steps of scientific research. If one of our aims is to raise individuals who are interested in the arts and sport and are environmentally conscious, we know they we too must keep pace with the constant update of knowledge and skills. As Mustafa Kemal Atatürk said, 'Teaching is being a lifelong student'. Işık Primary and Middle School accepts that intellect and science will guide us while we closely monitor the academic and behavioural status of our students.
Our wonderful students, we who try to raise you as world citizens are proud of your brothers and sisters who have been making a positive impact on society for the past 136 years. We wish you to realize your future dreams in all fields, to behave in accordance with the principles of righteousness, to be tolerant and respectful towards the differences of others and take responsibility for and value your freedom.
Our amazing parents, we would have difficulty in achieving these goals without you. We thank you for all the support you provide us and our students.
Finally, students, parents and teachers, may the Işık flame that softly glows in our minds and hearts continue to guide us to do what is right and be the best we can.
I wish you all a healthy and peaceful academic year.
Kindest regards,
Gülbahar Gürsoy
School Principal