From the School Principal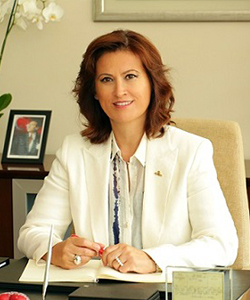 Beloved Işık Students,
Our love of education started in Thessaloniki at the end of the 1800's. Tevfik and Şemsi Efendi had stood firm in many turbulent periods in the history of our country, even in devastating wars; they laid the solid foundations of an institution that not only kept pace with every period and every change, but also pioneered it. Today, 135 years later, the order of the world, the way we live, everything we know and got used to has been reshaped due to a virus similar to what we come across in novels and movies; the dystopian world, which we didn't believe in and would reject by saying "this can't be happenning!", suddenly entered our lives like an insidious, evil character. Despite the world going through a turbulent period and habits being broken we have remained firm since the 1800's.
Dear Parents,
You entrusted your most precious; children, to us. Our responsibility is huge but we have full faith in ourselves. You will realize how your children will shape their journey with Isık Schools along with our well-equipped staff of teachers who will take care of them as much as you do. You will witness that they will come to school with a passion for learning, they will be happy and peaceful. Our aim is to raise children that are self-confident global citizens; we will raise individuals who research and question, decide for themselves, and take responsibility for their own decisions. We always need your opinions, suggestions and cooperation in the educational journey of our children. We want you to know that we will move much faster and easier by acting together. Whatever the future brings, we are sure that we, at Işık Schools, are passionate about preparing our children for the world of the future as social individuals who can solve complex problems, think creatively, have mental flexibility, resilient in the face of
difficulties, sensitive and productive. For this reason, we integrate modern knowledge and the latest education methods into our lesson plans and programs. ALİS, CIS, UbD, differentiated education practices and PYP early years program which are some of the programs we pioneered to follow innovations and educate new generations to be equipped for the future. Briefly, whether we implement distance, face-to-face or hybrid education program, we are ready for all conditions.


Dear Students,
No matter how long and difficult your education path may seem to you, you will not walk it alone. From 1st to 8th grade, your teachers will continue to guide and lead you on your journey. Along the way, we will applaud your achievements and be proud of your graduation. In the light of the thoughts of the Great Leader Atatürk; as individuals who are questioning, researching, creative, life-long learners, sensitive to the environment, aware of their responsibilities, and who are "good people first", we will send you off to higher institutions. I hope that the education torch lit in Thessaloniki in 1885 will be carried forever in your hands and many a bright future, and that it will illuminate your path without compromising the principles and revolutionary changes brought about by Mustafa Kemal Atatürk.


Sincerely Yours
SEMA TEKDOĞAN
Head of Primary and Middle School of Ayazaga Isık School